The Vice of Pride
Pride, the original sin of the fallen angels, is the first of the chiefly vices because all sin is rooted in pride. The simple act of thinking it's okay to sin in even the smallest of matters stems from the vice of pride.
The vice of pride is a disposition of putting the will of self before the will of God.
Scripture says, "No servant can serve two masters. He will either hate one and love the other, or be devoted to one and despise the other…" (Luke 16:13). The more one puts their will before God's will, the more one becomes a worshiper of self and rejector of God.
Pride makes one self-centered, self-indulgent, believe they are self-made, think they are better than others—know better than others—know better than God Himself. Instead of living the truth—every gift given, trial endured, breath, and heartbeat is by the grace of God—one lives the lie it's by their own self-doing.
We all battle the swelling of pride. Stay alert. Don't give in to it. When recognized, give the glory to God by whispering to yourself, "God is everything, and I am nothing without Him."
Amongst the strongest weapons against pride are the virtues of faith and humility. It is said, "It was pride that changed angels into devils; it is humility that makes men as angels" (St. Augustine). Give credit to God and neighbor in all things. Fight pride with faith and humility because those in heaven are the humble, and in hell—the proud.

Scroll down for the related scriptures, quotes, and lesson plan associated with this teaching.
Copyright © 2022 Horse & Chariot LLC. All rights reserved.
Related Scripture
"No servant can serve two masters. He will either hate one and love the other, or be devoted to one and despise the other…" — Luke 16:13 (NABRE)
"Look at the proud! Their spirit is not right in them, but the righteous live by their faith" — Habakkuk‬ ‭2:4 (NRSVue)
"...'God resists the proud, but shows favor to the humble'…" — 1 Peter‬ ‭5:5 (GNTD)
"...each person is tempted when he is lured and enticed by his own desire. Then desire conceives and brings forth sin, and when sin reaches maturity it gives birth to death." — James 1:14-15 (NABRE)
"But understand this: there will be terrifying times in the last days. People will be self-centered and lovers of money, proud, haughty, abusive, disobedient to their parents, ungrateful, irreligious, callous, implacable, slanderous, licentious, brutal, hating what is good, traitors, reckless, conceited, lovers of pleasure rather than lovers of God, as they make a pretense of religion but deny its power. Reject them. For some of these slip into homes and make captives of women weighed down by sins, led by various desires, always trying to learn but never able to reach a knowledge of the truth. Just as Jannes and Jambres opposed Moses, so they also oppose the truth—people of depraved mind, unqualified in the faith." — 2 Timothy 3:1-8 (NABRE)
"Pride has its beginning when a person abandons the Lord, his maker." — Sirach 10:12 (GNTD)
"Do not love the world or the things of the world. If anyone loves the world, the love of the Father is not in him. For all that is in the world, sensual lust, enticement for the eyes, and a pretentious life, is not from the Father but is from the world. Yet the world and its enticement are passing away. But whoever does the will of God remains forever." — 1 John 2:15-17 (NABRE)
"For everyone who exalts himself will be humbled, but the one who humbles himself will be exalted." — Luke 14:11 (NABRE)
"Every proud heart is an abomination to the Lord; be assured that none will go unpunished." — Proverbs 16:5 (NABRE)
"Pride goes before disaster, and a haughty spirit before a fall. It is better to be humble with the poor, than to share plunder with the proud." — Proverbs 16:18-19 (NABRE)
"When pride comes, then comes disgrace; but wisdom is with the humble." — Proverbs 11:2 (NRSVue)
"Haughtiness brings humiliation, but the humble of spirit acquire honor." — Proverbs 29:23 (NABRE)
"Have the same regard for one another; do not be haughty but associate with the lowly; do not be wise in your own estimation." — Romans 12:16 (NABRE)
"Do nothing out of selfishness or out of vainglory; rather, humbly regard others as more important than yourselves," — Philippians 2:3 (NABRE)
"More and more, humble your pride…" — Ben Sira 7:17 (NABRE)
"...Patience is better than pride." — Ecclesiastes 7:8 (GNTD)
"And because of God's gracious gift to me I say to every one of you: Do not think of yourself more highly than you should. Instead, be modest in your thinking, and judge yourself according to the amount of faith that God has given you." — Romans 12:3 (GNTD)
Related Quotes
"It was pride that changed angels into devils; it is humility that makes men as angels" — St. Augustine
"Through pride the devil became the devil. Pride leads to every vice, it's the complete anti-God state of mind." — C. S. Lewis
"All the vices are seasoned with pride just as the virtues are seasoned and enlivened by charity." — St. Catherine of Siena
"Learn to love humility, for it will cover all your sins. All sins are repulsive before God, but the most repulsive of all is pride of the heart. Do not consider yourself learned and wise; otherwise, all your efforts will be destroyed, and your boat will reach the harbor empty." — St. Anthony of Padua
"A proud man is always looking down on things and people; and, of course, as long as you are looking down, you cannot see something that is above you." — C. S. Lewis
"Pride is a sin that can readily be seen in others but is rarely admitted in ourselves." — Ezra Taft Benson
"And the Devil did grin, for his darling sin is pride that apes humility." — Samuel Taylor Coleridge
"Pride is the master sin of the devil, and the devil is the father of lies." — Edwin Hubbel Chapin
"There are two kinds of pride, both good and bad. 'Good pride' represents our dignity and self-respect. 'Bad pride' is the deadly sin of superiority that reeks of conceit and arrogance." — John C. Maxwell
"Essentially, pride is a 'my will' rather than 'thy will' approach to life." — Ezra Taft Benson
"The sin of pride is the sin of sins; in which all subsequent sins are included, as in their germ; they are but the unfolding of this one." — Richard Chenevix Trench
"Humility is nothing but truth, and pride is nothing but lying." — St. Vincent de Paul
"When pride and presumption walk before, shame and loss follow very closely." — St. Louis of France
"The proud man is forsaken of God." — Plato
"If I had only one sermon to preach it would be a sermon against pride." — Gilbert K. Chesterton
"A person who is obsessed with Jesus knows that the sin of pride is always a battle. Obsessed people know that you can never be "humble enough," and so they seek to make themselves less known and Christ more known." — Francis Chan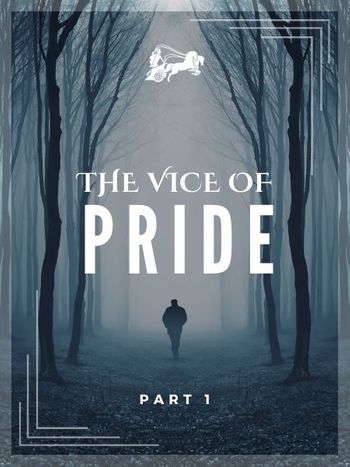 Lesson Plan
For your family, small group, or personal reflection.
STEP 1: Introduction
Example: "I'm going to play a short video on the topic of the vice of pride. After the video, I have some questions to gather your thoughts and get the discussion started. We'll then wrap up with a closing prayer."
STEP 2: Watch Video (or listen)
Watch (or listen to) the video of the teaching (cast to your TV via YouTube). If time allows, also read the teaching, related Scriptures, and related quotes.
STEP 3: Discussion / Reflection
The vice of pride is a disposition of putting the will of self before the will of God. What areas of your life do you find yourself putting your will before God's will? (please explain)
What are some things you can do in your life to put God's will first and grow in humility and faithfulness?
What is an example from your life where pride got the best of you? What lessons did you learn?
Did any of the related Scriptures or quotes stand out to you (please elaborate)?
Any other thoughts you'd like to share?
STEP 4: Wrap Up & Closing Prayer
Summarize and wrap up the discussion. Then, conclude with a sincere and humble prayer from the heart.