Be who God wills you to be.
Start learning and living the soul-lifting Christian teachings of virtue—it's free!

Inside the teachings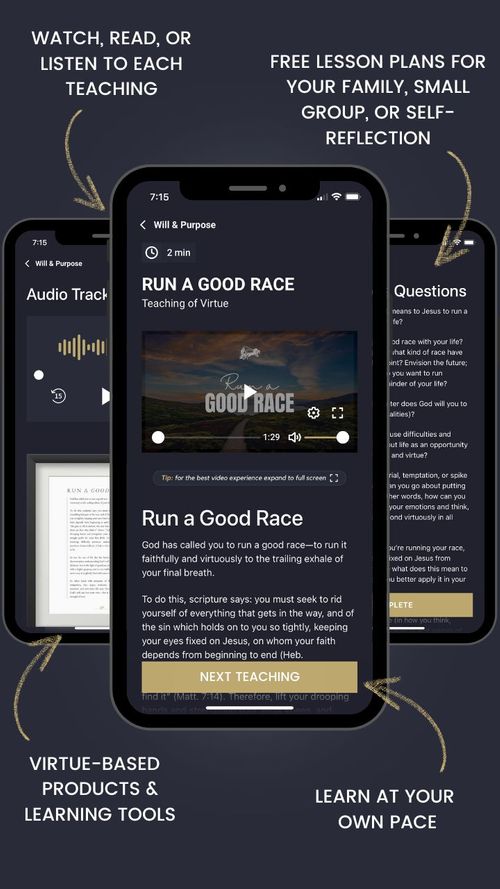 Learn your way, at your pace
Watch, read, or listen to each teaching. Learn at your own pace and easily pick up where you left off.
Fast, inspiring,  learning
Each lesson can be completed in as fast as two minutes. Then, explore related Scripture, quotes, and more.
Free lesson plans
Use free lesson plans to share the teachings of virtue with your family, small group, or for self-reflection.
virtue-based products
Love one of the teachings? Buy the print! Or, browse other virtue-based products and masterclasses.
The story behind the teachings
A message from the founder of Horse & Chariot
Fellow Christian,
I believe the teachings of virtue will shake your soul as they shook mine. I take no credit for the contents; I am simply the deliverer of a long-lost message that must be heard.
I've made many mistakes in my life, but I've always desired to get better and to be better. I've always wanted to be a person of excellence with regard to my character and impact. I've always wanted to live with purpose—to fulfill the calling God created me for. The problem was, there was never a clear path and process to follow; not until I found virtue.
I credit my wife for discovering virtue first. She started learning about it in a small group at church led by a man named Andrew Logan, and would share what she learned with me each week. I was fascinated.
Eventually, I also joined a small group on the subject of virtue. Although the group was brief, it was enough to inspire me to continue learning on my own. I invested innumerable hours studying to further my knowledge. I quickly realized there were a lot of good resources, but also a lot of bad ones. I also realized there were many key principles that worked together but were taught separately, making it very difficult and complicated to connect all the dots.
But over time, with a deeper reflection of Scripture, intense examination of the teachings of virtue by ancient philosophers and theologians, and countless hours of research, reflection, meditation, and prayer—I finally began to connect all the dots clearly and steadily grew from knowledge to understanding.