The Golden Mean
For every virtue there are two opposing extremes of vice; one vice is a lack or deficiency of a virtue, the other vice is an excess or disorder of a virtue. Virtue then, is the golden mean between the margins of vice.
For example, courage is a virtue. The opposing vices are the deficiency of courage, which is cowardice, and the disordered excess of courage, which is recklessness.
Imagine you are at the battlefront; running into the battle with your fellow soldiers would require courage; not running into the battle would be cowardice; running into the battle alone, against a hundred enemy soldiers of which you had no chance of defeating, would be recklessness.
To have courage is to hold the golden mean between the margins of vice of cowardice and recklessness. This is just one example of over a hundred different virtues and opposing vices uncovered in the teachings of virtue. An intellect armed with knowledge and understanding of them is invaluable to the pursuit of a virtuous life.
The way of virtue leads you down the narrow path of holiness and fulfillment—the golden mean. The way of sin, leads you down the wide road of destruction and emptiness—the margins of vice.
The daily challenge you face is holding the golden mean of virtue in all areas of your life—a challenge that can never be won alone—only by cooperating with the grace of the Holy Spirit working within you.

Scroll down for the related scriptures, quotes, and lesson plan associated with this teaching.
Copyright © 2022 Horse & Chariot LLC. All rights reserved.
Related Scripture
"I say, then: live by the Spirit and you will certainly not gratify the desire of the flesh. For the flesh has desires against the Spirit, and the Spirit against the flesh; these are opposed to each other, so that you may not do what you want. But if you are guided by the Spirit, you are not under the law. Now the works of the flesh are obvious: immorality, impurity, licentiousness, idolatry, sorcery, hatreds, rivalry, jealousy, outbursts of fury, acts of selfishness, dissensions, factions, occasions of envy, drinking bouts, orgies, and the like. I warn you, as I warned you before, that those who do such things will not inherit the kingdom of God. In contrast, the fruit of the Spirit is love, joy, peace, patience, kindness, generosity, faithfulness, gentleness, self-control. Against such there is no law. Now those who belong to Christ [Jesus] have crucified their flesh with its passions and desires. If we live in the Spirit, let us also follow the Spirit. Let us not be conceited, provoking one another, envious of one another." — Galatians 5:16-26 (NABRE)
"So turn from youthful desires and pursue righteousness, faith, love, and peace, along with those who call on the Lord with purity of heart." — 2 Timothy 2:22 (NABRE)
"For just as through the disobedience of the one man the many were made sinners, so also through the obedience of the one man the many will be made righteous." — Romans 5:19 (NABRE)
"Every test that you have experienced is the kind that normally comes to people. But God keeps his promise, and he will not allow you to be tested beyond your power to remain firm; at the time you are put to the test, he will give you the strength to endure it, and so provide you with a way out." — 1 Corinthians 10:13 (GNTD)
"Do to others whatever you would have them do to you…" — Matthew 7:12 (NABRE) (The Golden Rule)
"Enter through the narrow gate; for the gate is wide and the road broad that leads to destruction, and those who enter through it are many. How narrow the gate and constricted the road that leads to life. And those who find it are few." — Matthew 7:13-14 (NABRE)
"Like obedient children, do not act in compliance with the desires of your former ignorance but, as he who called you is holy, be holy yourselves in every aspect of your conduct…" — 1 Peter 1:14-15 (NABRE)
"Let love be sincere; hate what is evil, hold on to what is good; love one another with mutual affection; anticipate one another in showing honor. Do not grow slack in zeal, be fervent in spirit, serve the Lord. Rejoice in hope, endure in affliction, persevere in prayer. Contribute to the needs of the holy ones, exercise hospitality. Bless those who persecute [you], bless and do not curse them. Rejoice with those who rejoice, weep with those who weep. Have the same regard for one another; do not be haughty but associate with the lowly; do not be wise in your own estimation. Do not repay anyone evil for evil; be concerned for what is noble in the sight of all. If possible, on your part, live at peace with all. Beloved, do not look for revenge but leave room for the wrath; for it is written, "Vengeance is mine, I will repay, says the Lord." Rather, "if your enemy is hungry, feed him; if he is thirsty, give him something to drink; for by so doing you will heap burning coals upon his head." Do not be conquered by evil but conquer evil with good." — Romans 12:9-21 (NABRE)
"Do not be fooled. 'Bad companions ruin good character.' Come back to your right senses and stop your sinful ways..." — 1 Corinthians 15:33-34 (GNTD)
"Let your eyes look straight ahead and your gaze be focused forward. Survey the path for your feet, and all your ways will be sure. Turn neither to right nor to left, keep your foot far from evil." — Proverbs 4:25-27 (NABRE)
Related Quotes
"It can only ruin your life if it ruins your character." — Marcus Aurelius
"Virtue is the golden mean between two vices, the one of excess and the other of deficiency." — Aristotle
"Some vices miss what is right because they are deficient, others because they are excessive, in feelings or in actions, while virtue finds and chooses the mean." — Aristotle
"Do not think you have gained a virtue unless you have first been tried by its opposite." — St. Teresa of Avila
"Excellence or virtue is a settled disposition of the mind that determines our choice of actions and emotions and consists essentially in observing the mean relative to us ... a mean between two vices, that which depends on excess and that which depends on defect." — Aristotle
"For both excessive and insufficient exercise destroy one's strength, and both eating and drinking too much or too little destroy health, whereas the right quantity produces, increases and preserves it. So it is the same with temperance, courage and the other virtues. This much then, is clear: in all our conduct it is the mean that is to be commended." — Aristotle
"Temperance is a mean with regard to pleasures." — Aristotle
"Temperance and bravery, then, are ruined by excess and deficiency, but preserved by the mean." — Aristotle
"He, that holds fast the golden mean, And lives contentedly between the little and the great, Feels not the wants that pinch the poor, nor plagues that haunt the rich man's door." — Horace
"If then, as we say, good craftsmen look to the mean as they work, and if virtue, like nature, is more accurate and better than any form of art, it will follow that virtue has the quality of hitting the mean. I refer to moral virtue, for this is concerned with emotions and actions, in which one can have excess or deficiency or a due mean." — Aristotle
"It takes a vice to check a vice, and virtue is the by-product of a stalemate between opposite vices." — Eric Hoffer
"It is possible to fail in many ways (for evil belongs to the class of the unlimited and good to that of the limited), while to succeed is possible only in one way (for which reason also one is easy and the other difficult—to miss the mark easy, to hit it difficult); for these reasons also, then, excess and defect are characteristic of vice, and the mean of virtue; For men are good in but one way, but bad in many." — Aristotle
"Not every action or emotion however admits of the observance of a due mean. Indeed the very names of some directly imply evil, for instance malice, shamelessness, envy, and, of actions, adultery, theft, murder. All these and similar actions and feelings are blamed as being bad in themselves; it is not the excess or deficiency of them that we blame. It is impossible therefore ever to go right in regard to them - one must always be wrong." — Aristotle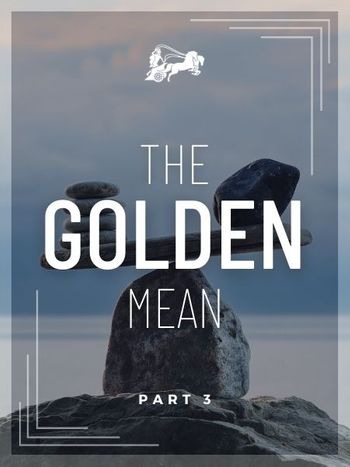 Lesson Plan
For your family, small group, or personal reflection.
STEP 1: Introduction
Example: "I'm going to play a short video on the topic of the 'Golden Mean.' After the video, I have some questions to gather your thoughts and get the discussion started. We'll then wrap up with a closing prayer."
STEP 2: Watch Video (or listen)
Watch (or listen to) the video of the teaching (cast to your TV via YouTube). If time allows, also read the teaching, related Scriptures, and related quotes.
STEP 3: Discussion / Reflection
Study the list of virtues and opposing vices below. What initial thoughts come to mind?
Per the list below, what areas are you the strongest at holding the golden mean and why? (NOTE: The golden mean is different for different people and different situations. For example, the virtue of temperance has to do with moderation; when it comes to eating, what is just enough food for a tiny ballerina is far too little for a huge bodybuilder, and what's just enough for a huge bodybuilder is not enough for a tiny ballerina. So the golden mean can vary based on the person or situation.)
Per the list below, what areas are you the weakest at holding the golden mean and why? What do you think you can do to grow stronger in those areas?
Did any of the related Scriptures or quotes stand out to you (please elaborate)?
Any other thoughts you'd like to share?
Below is a short list of virtues and opposing vices (virtues in middle, vices at ends):
Negligence — Prudence — Cunning
Inequity — Justice — Mercilessness
Cowardice — Courage (aka: Fortitude) — Recklessness
Intemperance — Temperance — Self-denial
Disobedience — Obedience — Blind-obedience
Discourteous — Courtesy — Disingenuousness
Disorderliness — Orderliness — Obsessiveness
Self-indulgence — Self-Control — Insensitivity
Boorishness — Humor — Buffoonery
Arrogance — Humility — False-humility
Disrespectfulness — Respect — Idolization
Uncooperativeness — Cooperation — Pushoverness
Overanalysis — Shrewdness — Impulsiveness
Inflexibility — Adjustability — Laxity
Aimlessness — Idealism — Overambition
Forgetfulness — Memory — Memory-bias
Selfishness — Sacrifice — Self-neglect
Dishonesty — Honesty — Bluntness
STEP 4: Wrap Up & Closing Prayer
Summarize and wrap up the discussion. Then, conclude with a sincere and humble prayer from the heart.