Do the Hard Things
Pursuing a virtuous life is hard. As Saint Anthony the Great put it, "One should not say that it is impossible to reach a virtuous life; but one should say that it is not easy."
Therefore, to develop virtuous character, one must embrace doing the hard things before the pleasurable things. Develop a habit of it; wake up on time; pray; do your tasks; put others first; stop procrastinating, complaining, half-hearting—seeking delight before duty. For not doing so, will leave an unfilled void in your soul; as Scripture says, "I will go forth and overflow with delights, and I will enjoy good things. And I saw this, too, is emptiness" (Ecclesiastes 2:1).
Seeds of vice are sown in doing the pleasurable things before the hard things. Seeds of virtue are sown in doing the hard things before the pleasurable things.
There is no wrong in enjoying the pleasures of life—a tasty meal, a relaxing trip, a good movie. They are a healthy way to recharge, but only if done in a moderate, moral, and justly ordered way—after the hard things and hard work the Lord has placed before you have been done first.
"The path of least resistance leads to crooked rivers and crooked [souls]" (Henry David Thoreau). So, do the hard things; make God's will your will—doing what you ought before doing what you want. This intentionality, day by day, will habituate the characteristics of virtue within you.

Scroll down for the related scriptures, quotes, and lesson plan associated with this teaching.
Copyright © 2022 Horse & Chariot LLC. All rights reserved.
Related Scripture
"I will go forth and overflow with delights, and I will enjoy good things. And I saw that this, too, is emptiness" — Ecclesiastes 2:1 (CPDV)
"But understand this: there will be terrifying times in the last days. People will be self-centered and lovers of money, proud, haughty, abusive, disobedient to their parents, ungrateful, irreligious, callous, implacable, slanderous, licentious, brutal, hating what is good, traitors, reckless, conceited, lovers of pleasure rather than lovers of God." — 2 Timothy 3:1-4 (NABRE)
"Keep yourself in training for a godly life. Physical exercise has some value, but spiritual exercise is valuable in every way, because it promises life both for the present and for the future. This is a true saying, to be completely accepted and believed. We struggle and work hard, because we have placed our hope in the living God, who is the Savior of all and especially of those who believe." — 1 Timothy 4:8-10 (GNTD)
"A good person who gives in to someone who is evil reminds you of a polluted spring or a poisoned well. Too much honey is bad for you…" — Proverbs 25:26-27 (GNTD)
"If you love me, you will keep my commandments." — John 14:15 (NABRE)
"...who were building on the wall. Those who carried burdens were loaded in such a way that each labored on the work with one hand and held his weapon with the other. And each of the builders had his sword strapped at his side while he built." — Nehemiah 4:17-18 (ESV)
"Do not be unequally yoked with unbelievers. For what partnership has righteousness with lawlessness? Or what fellowship has light with darkness?" — 2 Corinthians 6:14 (ESV)
"So let us not become tired of doing good; for if we do not give up, the time will come when we will reap the harvest." — Galatians 6:9 (GNTD)
"So whether you eat or drink, or whatever you do, do everything for the glory of God." — 1 Corinthians 10:31 (NABRE)
"I have the strength to face all conditions by the power that Christ gives me." — Philippians 4:13 (GNTD)
"Do your best to win full approval in God's sight, as a worker who is not ashamed of his work, one who correctly teaches the message of God's truth." — 2 Timothy 2:15 (GNTD)
"He who walks in integrity and with moral character walks securely, but he who takes a crooked way will be discovered and punished." — Proverbs 10:9 (AMP)
"The integrity and moral courage of the upright will guide them, but the crookedness of the treacherous will destroy them." — Proverbs 11:3 (AMP)
"Finally, build up your strength in union with the Lord and by means of his mighty power. Put on all the armor that God gives you, so that you will be able to stand up against the Devil's evil tricks. For we are not fighting against human beings but against the wicked spiritual forces in the heavenly world, the rulers, authorities, and cosmic powers of this dark age. So put on God's armor now! Then when the evil day comes, you will be able to resist the enemy's attacks; and after fighting to the end, you will still hold your ground. So stand ready, with truth as a belt tight around your waist, with righteousness as your breastplate, and as your shoes the readiness to announce the Good News of peace. At all times carry faith as a shield; for with it you will be able to put out all the burning arrows shot by the Evil One. And accept salvation as a helmet, and the word of God as the sword which the Spirit gives you. Do all this in prayer, asking for God's help. Pray on every occasion, as the Spirit leads. For this reason keep alert and never give up; pray always for all God's people. And pray also for me, that God will give me a message when I am ready to speak, so that I may speak boldly and make known the gospel's secret." — Ephesians 6:10-19 (GNTD)
"So then, if we do not do the good we know we should do, we are guilty of sin." — ‭‭James‬ ‭4‬:‭17‬ (‭GNTD‬‬)
Related Quotes
"One should not say that it is impossible to reach a virtuous life; but one should say that it is not easy. Nor do those who have reached it find it easy to maintain." — St. Anthony the Great
"The path of least resistance leads to crooked rivers and crooked men." ― Henry David Thoreau
"Character is developed one positive action at a time. Therefore, nothing is actually trivial in our lives. To grow in character development, pay attention to seemingly trivial matters. Someone who grows from each minor life event will eventually reach high levels of character perfection." — Rabbi Zelig Pliskin
"It is not the most distinguished achievements that men's virtues or vices may be best discovered; but very often an action of small note. A casual remark or joke shall distinguish a person's real character more than the greatest sieges, or the most important battles." — Plutarch
"If you are going to achieve excellence in big things, you develop the habit in little matters." — Charles R. Swindoll
"I do the unpleasant tasks before I do the pleasant ones." — Viktor Frankl
"It's the action, not the fruit of the action, that's important. You have to do the right thing. It may not be in your power, may not be in your time, that there'll be any fruit. But that doesn't mean you stop doing the right thing. You may never know what results come from your actions. But if you do nothing, there will be no result." — Gandhi
"We should every night call ourselves to an account: What infirmity have I mastered today? What passions opposed? What temptation resisted? What virtue acquired? Our vices will abate of themselves if they be brought every day to the shrift." — Seneca
"Look within, for within is the wellspring of virtue, which will not cease flowing, if you cease not from digging." — Marcus Aurelius
"The time is always right to do what is right." — Martin Luther King, Jr.
"Think no vice so small that you may commit it, and no virtue so small that you may over look it." — Confucius
"Three things are necessary for the salvation of man: to know what he ought to believe; to know what he ought to desire, and to know what he ought to do." — St.Thomas Aquinas
"He that has energy enough to root out a vice should go further, and try to plant a virtue in its place." — Charles Caleb Colton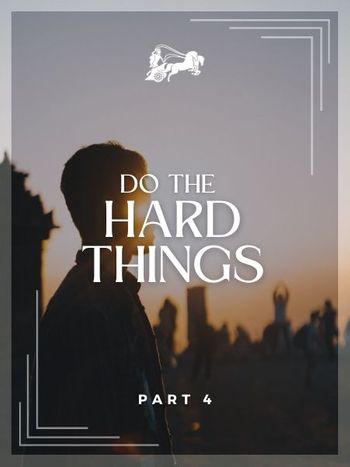 Lesson Plan
For your family, small group, or personal reflection.
STEP 1: Introduction
Example: "I'm going to play a short video on the topic of doing the hard things before the pleasurable things. After the video, I have some questions to gather your thoughts and get the discussion started. We'll then wrap up with a closing prayer."
STEP 2: Watch Video (or listen)
Watch (or listen to) the video of the teaching (cast to your TV via YouTube). If time allows, also read the teaching, related Scriptures, and related quotes.
STEP 3: Discussion / Reflection
How do you feel when you have the strength of will to do the hard thing before the pleasurable thing (doing what you ought before doing what you want)? What are some examples?
How do you feel when you do the pleasurable thing before the hard thing? What are some examples?
What virtues (habits and characteristics) would you like to develop in order to better face and embrace doing the hard things in your life? How can you go about developing them?
Did any of the related Scriptures or quotes stand out to you (please elaborate)?
Any other thoughts you'd like to share?
STEP 4: Wrap Up & Closing Prayer
Summarize and wrap up the discussion. Then, conclude with a sincere and humble prayer from the heart.