Run a Good Race
God has called you to run a good race—to run it faithfully and virtuously to the trailing exhale of your final breath.
To do this, Scripture says: you must seek to rid yourself of everything that gets in the way, and of the sin which holds on to you so tightly, keeping your eyes fixed on Jesus, on whom your faith depends from beginning to end (Hebrews 12:1-2). Because, "the gate to life is narrow, the way that leads to it is hard, and there are few who find it" (Matthew 7:14). Therefore, lift your drooping hands and strengthen your weak knees, and make straight paths for your feet (‭‭Hebrews‬ ‭12:12-13‬‬‬). All the while knowing, difficulty produces endurance, and endurance produces character (Romans‬ ‭5:3-4‬‬‬) — the character God wills you to be.
So run the race of life that lies before you with unshakable determination; understanding God's will for you is not to run in darkness, but in the light of goodness; not to run aimlessly, but with a higher purpose; not to run halfheartedly, but to run in such a way as to glorify God with your every step.
So when faced with moments of difficulty, desire, trial, temptation, fear, anger, weakness, sadness, or whatever emotions and adversities life may throw at you, choose God's will and not your own—that is true character—that is strength of soul.

Scroll down for the related scriptures, quotes, and lesson plan associated with this teaching.
Copyright © 2022 Horse & Chariot LLC. All rights reserved.
Related Scripture
"As for us, we have this large crowd of witnesses around us. So then, let us rid ourselves of everything that gets in the way, and of the sin which holds on to us so tightly, and let us run with determination the race that lies before us. Let us keep our eyes fixed on Jesus, on whom our faith depends from beginning to end. He did not give up because of the cross! On the contrary, because of the joy that was waiting for him, he thought nothing of the disgrace of dying on the cross, and he is now seated at the right side of God's throne." — Hebrews‬ ‭12:1-2‬ (‭GNTD)
"But the gate to life is narrow and the way that leads to it is hard, and there are few people who find it." — ‭‭Matthew‬ ‭7:14‬ ‭(GNTD)
"Endure trials for the sake of discipline. God is treating you as children; for what child is there whom a parent does not discipline? If you do not have that discipline in which all children share, then you are illegitimate and not his children. Moreover, we had human parents to discipline us, and we respected them. Should we not be even more willing to be subject to the Father of spirits and live? For they disciplined us for a short time as seemed best to them, but he disciplines us for our good, in order that we may share his holiness. Now, discipline always seems painful rather than pleasant at the time, but later it yields the peaceful fruit of righteousness to those who have been trained by it. Therefore lift your drooping hands and strengthen your weak knees, and make straight paths for your feet, so that what is lame may not be put out of joint, but rather be healed." ‭‭— Hebrews‬ ‭12‬:‭7‬-‭13‬ ‭(NRSV‬‬)
"Therefore, since we are justified by faith, we have peace with God through our Lord Jesus Christ, through whom we have obtained access to this grace in which we stand; and we boast in our hope of sharing the glory of God. And not only that, but we also boast in our sufferings, knowing that suffering produces endurance, and endurance produces character, and character produces hope, and hope does not disappoint us, because God's love has been poured into our hearts through the Holy Spirit that has been given to us." — ‭‭Romans‬ ‭5‬:‭1‬-‭5‬ (‭NRSV‬‬)
"But those who trust in the Lord for help will find their strength renewed. They will rise on wings like eagles; they will run and not get weary; they will walk and not grow weak." — Isaiah 40:31 (GNTD)
"I have done my best in the race, I have run the full distance, and I have kept the faith. And now there is waiting for me the victory prize of being put right with God, which the Lord, the righteous Judge, will give me on that Day—and not only to me, but to all those who wait with love for him to appear." — 2 Timothy 4:7-8 (GNTD)
"Surely you know that many runners take part in a race, but only one of them wins the prize. Run, then, in such a way as to win the prize. Every athlete in training submits to strict discipline, in order to be crowned with a wreath that will not last; but we do it for one that will last forever. That is why I run straight for the finish line; that is why I am like a boxer who does not waste his punches. I harden my body with blows and bring it under complete control, to keep myself from being disqualified after having called others to the contest." — 1 Corinthians 9:24-27 (GNTD)
"Run your best in the race of faith, and win eternal life for yourself; for it was to this life that God called you when you firmly professed your faith before many witnesses." — 1 Timothy 6:12 (GNTD)
"I do not claim that I have already succeeded or have already become perfect. I keep striving to win the prize for which Christ Jesus has already won me to himself. Of course, my friends, I really do not think that I have already won it; the one thing I do, however, is to forget what is behind me and do my best to reach what is ahead. So I run straight toward the goal in order to win the prize, which is God's call through Christ Jesus to the life above." — Philippians 3:12-14 (GNTD)
"My child, pay attention to what I say. Listen to my words. Never let them get away from you. Remember them and keep them in your heart. They will give life and health to anyone who understands them. Be careful how you think; your life is shaped by your thoughts. Never say anything that isn't true. Have nothing to do with lies and misleading words. Look straight ahead with honest confidence; don't hang your head in shame. Plan carefully what you do, and whatever you do will turn out right. Avoid evil and walk straight ahead. Don't go one step off the right way." — Proverbs 4:20-27 (GNTD)
"However, I consider my life worth nothing to me; my only aim is to finish the race and complete the task the Lord Jesus has given me–the task of testifying to the good news of God's grace." — Acts 20:24 (NIV)
"The road the righteous travel is like the sunrise, getting brighter and brighter until daylight has come. The road of the wicked, however, is dark as night. They fall, but cannot see what they have stumbled over." — Proverbs 4:18-19 (GNTD)
"He watches every step we take." — Job 34:21 (GNTD)
Related Quotes
"Get up tomorrow early in the morning, and earlier than you did today, and do the best that you can." — St. Joan of Arc
"Have patience and persevere in the holy exercise of meditation; be content to begin with small steps till you have legs to run, better still wings to fly. Be content to be obedient, which is never a small thing for a soul which has chosen God for its portion. And be resigned to be, for the present, a little bee in the hive which will soon become a large bee capable of making honey." — St. Padre Pio
"Nothing great is ever achieved without much enduring." — St. Catherine of Siena
"The true man is revealed in difficult times. So when trouble comes, think of yourself as a wrestler whom God, like a trainer, has paired with a tough young buck. For what purpose? To turn you into Olympic-class material." — Epictetus
"If you can't fly then run, if you can't run then walk, if you can't walk then crawl, but whatever you do you have to keep moving forward." — Martin Luther King Jr.
"Even if you're on the right track, you'll get run over if you just sit there." — St. Mother Teresa
"Do not be lazy. Run each day's race with all your might, so that at the end you will receive the victory wreath from God. Keep on running even when you have had a fall. The victory wreath is won by him who does not stay down, but always gets up again, grasps the banner of faith and keeps on running in the assurance that Jesus is Victor." — Basilea Schlink
"If you're running a 26-mile marathon, remember that every mile is run one step at a time. If you are writing a book, do it one page at a time. If you're trying to master a new language, try it one word at a time. There are 365 days in the average year. Divide any project by 365 and you'll find that no job is all that intimidating." — Chuck Swindoll
"Let us contend with all earnestness, knowing that we are now called to the combat. Let us run in the straight road, the race that is incorruptible." — St. Clement
"There are many who want me to tell them of secret ways of becoming perfect and I can only tell them that the sole secret is a hearty love of God, and the only way of attaining that love is by loving. You learn to speak by speaking, to study by studying, to run by running, to work by working; and just so you learn to love God and man by loving. Begin as a mere apprentice and the very power of love will lead you on to become a master of the art." — St. Francis de Sales
"What man actually needs is not a tensionless state but rather the striving and struggling for some goal worthy of him." — Viktor Frankl
"We must often remember what Christ said, that not he who begins, but he that perseveres to the end, shall be saved." — St. Philip Neri
"I know well that the greater and more beautiful the work is, the more terrible will be the storms that rage against it." — St. Maria Faustina Kowalska
"It is right that you should begin again every day. There is no better way to complete the spiritual life than to be ever beginning it over again." — St. Francis de Sale
"Never discourage anyone…who continually makes progress, no matter how slow." — Plato
"The journey of a thousand miles begins with one step." — Lao Tzu
"Dare to begin! He who postpones living rightly is like the rustic who waits for the river to run out before he crosses." — Horace
"The beauty of the soul shines out when a man bears with composure one heavy mischance after another, not because he does not feel them, but because he is a man of high and heroic temper." — Aristotle
"The temptation to quit will be greatest just before you are about to succeed."— Chinese Proverb
"The test of the artist does not lie in the will with which he goes to work, but in the excellence of the work he produces." — St. Thomas Aquinas
"If virtue precede us every step will be safe." — Seneca
"...a man should run his course and make a fair ending, and then we will praise him; and let praise be given equally to women as well as men who have been distinguished in virtue." — Plato
"If you are pleased with what you are, you have stopped already. If you say, 'It is enough,' you are lost. Keep on walking, moving forward, trying for the goal." — St. Augustine
"Is it not true that the clever rogue is like the runner who runs well for the first half of the course, but flags before reaching the goal: he is quick off the mark, but ends in disgrace and slinks away crestfallen and uncrowned. The crown is the prize of the really good runner who perseveres to the end." — Plato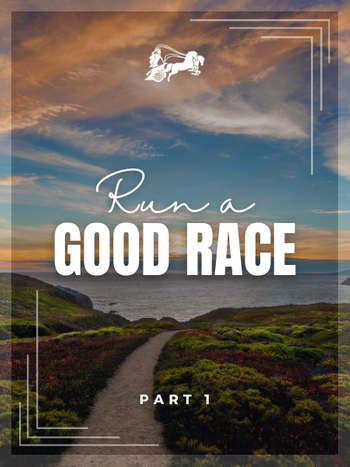 Lesson Plan
For your family, small group, or personal reflection.
STEP 1: Introduction
Example: "I'm going to play a short video on the topic of running a good race with your life. After the video, I have some questions to gather your thoughts and get the discussion started. We'll then wrap up with a closing prayer."
STEP 2: Watch Video (or listen)
Watch (or listen to) the video of the teaching (cast to your TV via YouTube). If time allows, also read the teaching, related Scriptures, and related quotes.
STEP 3: Discussion / Reflection
What does it mean to you to "run a good race" with your life?
What does it mean to you to "keep your eyes fixed on Jesus from beginning to end"?
How are difficulties throughout life an opportunity for us to grow in character and virtue?
What type of character does God will for us to be (list character qualities)?
When faced with a difficult situation (trial, temptation, fear, anger, etc.), how can you go about putting God's will first (how can you control your emotions and think, act, and respond virtuously)?
Did any of the related Scriptures or quotes stand out to you (please elaborate)?
Any other thoughts you'd like to share?
STEP 4: Wrap Up & Closing Prayer
Summarize and wrap up the discussion. Then, conclude with a sincere and humble prayer from the heart.