Renew Your Mind
Ancient philosopher Plutarch stated, "Character is simply habit long continued." Meaning, be aware of the character your habits are shaping you to be, one who is virtuous or one who is vicious.
The bonds of virtuous habit are formed by doing the good and right thing in every situation, big or small—whether you feel like it or not. Virtue grows from a single good act, into a series of good acts, into a loose habit, into a firm habit, into a virtue—fully habituated into your character and soul. This is the turning point where things go from being hard to do the good and right thing, to becoming harder not to do the good and right thing when the opportunity presents itself. But how do you know the good and right thing to do in every situation? It starts with the renewing of your mind.
Scripture says, "Do not conform yourselves to this age but be transformed by the renewal of your mind, that you may discern what is the will of God, what is good and pleasing and perfect" (Romans 12:2).
Thus, the way to cross the valley from—
ignorance to wisdom, fearfulness to bravery, self-indulgence to self-control, unfaithfulness to faithfulness, living in illusion to living in truth
—is to build a bridge of knowledge and understanding in the teachings of virtue (the ways of Christ)—turning the rudder of your free will toward union with God's will, opening the sails of your soul, allowing the grace of the Holy Spirit to fill you, and carry you, ever-onward.

Scroll down for the related scriptures, quotes, and lesson plan associated with this teaching.
Copyright © 2022 Horse & Chariot LLC. All rights reserved.
Related Scripture
"Do not conform yourselves to this age but be transformed by the renewal of your mind, that you may discern what is the will of God, what is good and pleasing and perfect." — Romans 12:2 (NABRE)
"So whoever is in Christ is a new creation: the old things have passed away; behold, new things have come." — 2 Corinthians 5:17 (NABRE)
"...be renewed in the spirit of your minds." — Ephesians 4:23 (NABRE)
"So we do not lose heart. Though our outer self is wasting away, our inner self is being renewed day by day." — 2 Corinthians 4:16 (GNT)
"So then, have your minds ready for action. Keep alert and set your hope completely on the blessing which will be given you when Jesus Christ is revealed. Be obedient to God, and do not allow your lives to be shaped by those desires you had when you were still ignorant. Instead, be holy in all that you do, just as God who called you is holy." — 1 Peter 1:13-15 (ESV)
"I will give you a new heart, and a new spirit I will put within you. I will remove the heart of stone from your flesh and give you a heart of flesh. I will put my spirit within you so that you walk in my statutes, observe my ordinances, and keep them." — Ezekiel 36:26-27 (NABRE)
"Create a pure heart in me, O God, and put a new and loyal spirit in me." — Psalm 51:10 (GNTD)
"Blessed is the man who will abide in wisdom, and who will meditate on her righteousness, and who, in his mind, will consider the circumspection of God." — Sirach 14:22 (CPDV)
"...fill your minds with those things that are good and that deserve praise: things that are true, noble, right, pure, lovely, and honorable. Put into practice what you learned…" — Philippians 4:8 (GNTD)
"All Scripture is breathed out by God and profitable for teaching, for reproof, for correction, and for training in righteousness." — 2 Timothy 3:16 (ESV)
"Do not seem wise to yourself. Fear God, and withdraw from evil. Certainly, it shall be health to your navel, and refreshment to your bones." — Proverbs 3:7-8 (CPDV)
"Set your minds on things that are above, not on things that are on earth." — Colossians 3:2 (ESV)
"For to set the mind on the flesh is death, but to set the mind on the Spirit is life and peace." — Romans 8:6 (ESV)
"Christ's message in all its richness must live in your hearts. Teach and instruct one another with all wisdom. Sing psalms, hymns, and sacred songs; sing to God with thanksgiving in your hearts. Everything you do or say, then, should be done in the name of the Lord Jesus, as you give thanks through him to God the Father." — Colossians 3:16-17 (GNTD)
"For who has understood the mind of the Lord so as to instruct him?" But we have the mind of Christ." — 1 Corinthians 2:16 (ESV)
"...take every thought captive in obedience to Christ." — 2 Corinthians 10:5 (NABRE)
Related Quotes
"Sow a thought and you reap an action; sow an act and you reap a habit; sow a habit and you reap a character; sow a character and you reap a destiny." — Ralph Waldo Emerson
"If we plant a flower or a shrub and water it daily it will grow so tall that in time we shall need a spade and a hoe to uproot it. It is just so, I think, when we commit a fault, however small, each day, and do not cure ourselves of it." — St. Teresa of Avila
"If an egg is broken by an outside force, life ends. If broken by an inside force, life begins. Great things always begin from the inside." — Jim Kwik
"Let no one be slow to seek wisdom when he is young nor weary in the search of it when he has grown old. For no age is too early or too late for the health of the soul." ― Epicurus
"And all knowledge, when separated from justice and virtue, is seen to be cunning and not wisdom; wherefore make this your first and last and constant and all-absorbing aim, to exceed, if possible, not only us but all your ancestors in virtue." — Plato
"Allow me to offer a simple definition of wisdom. Wisdom is looking at life from God's point of view." — Charles R. Swindoll
"The purpose of education [in virtue] is to give to the body and to the soul all the beauty and all the perfection of which they are capable." — Plato
"The mind is the pilot of the soul." ― Socrates
"Thinking is the talking of the soul with itself." — Plato
"You have absolute control over just one thing, your thoughts. This divine gift is the sole means by which you may control your destiny. If you fail to control your mind, you will control nothing else." — Napoleon Hill
"A particular train of thought persisted in, be it good or bad, cannot fail to produce its results on the character and circumstances." — James Allen
"Good thoughts bear good fruit, bad thoughts bear bad fruit." — James Allen
"Change your thoughts, and in the twinkling of an eye, all your conditions change. Your world is a world of crystallized ideas, crystallized words. Sooner or later, you reap the fruits of your words and thoughts." — Florence Scovel Shinn
"There is no counsel like God's counsel. No comfort like His comfort. No wisdom more profound than the wisdom of the Scriptures." — Charles R. Swindoll
"The Scriptures are shallow enough for a babe to come and drink without fear of drowning and deep enough for theologians to swim in without ever reaching the bottom." — St. Jerome
"The study of truth requires a considerable effort — which is why few are willing to undertake it out of love of knowledge." — St. Thomas Aquinas
"We can't have full knowledge all at once. We must start by believing; then afterward we may be led on to master the evidence for ourselves." — St. Thomas Aquinas
"Let each of us accept the truth of the following statement and try to make it our most fundamental principle: Christ's teaching will never let us down, while worldly wisdom always will. Christ Himself said that this sort of wisdom was like a house with nothing but sand as its foundation, while His own was like a building with solid rock as its foundation." — St. Vincent de Paul
"Through the study of books one seeks God; by meditation one finds him." — St. Padre Pio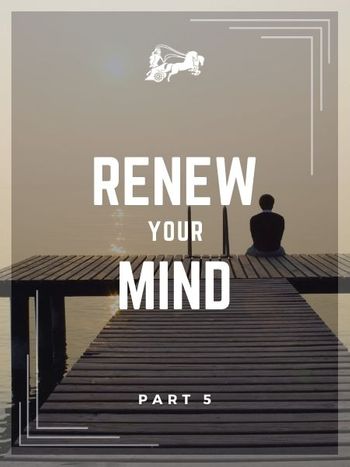 Lesson Plan
For your family, small group, or personal reflection.
STEP 1: Introduction
Example: "I'm going to play a short video on the topic of renewing your mind. After the video, I have some questions to gather your thoughts and get the discussion started. We'll then wrap up with a closing prayer."
STEP 2: Watch Video (or listen)
Watch (or listen to) the video of the teaching (cast to your TV via YouTube). If time allows, also read the teaching, related Scriptures, and related quotes.
STEP 3: Discussion / Reflection
What is an example in your life when something was hard to do consistently initially, but over time, as it formed into a habit, it became harder to NOT do it when the opportunity called?
Why do you think increasing your knowledge and understanding (renewing your mind) in the teachings of virtue (which shed light on hundreds of virtues and their opposing vices) helps strengthen your will to harvest good habits and weed out bad habits? (HINT: "Now I know better, so I do better." ~ Maya Angelou)
Many people hide behind the excuse "they have no talents." It's like they are waiting just to wake up one day with a newfound skill. It doesn't work that way. You have to take action! And that action starts in the mind. A baby is not born knowing how to beautifully play the guitar, be the lead accountant for a Fortune 500 company, or be the head of sales of a large organization. Those skills were all forged into talents from years of study, practice, success, and failure. The potential, however, seeded by God, is within each one of us! Is there an example in your life where you spent a great deal of time educating yourself in something (via study, books, podcasts, videos, mentorships, schooling), and as a result, your willpower to pursue it increased? (HINT: In this same way, as your knowledge and understanding of virtue and vice increases, your willpower to live a virtuous life—in accordance with God's will—increases as well.)
Reflect on the quote, "Good thoughts bear good fruit, bad thoughts bear bad fruit" (James Allen). What does this mean to you?
Did any of the related Scriptures or quotes stand out to you (please elaborate)?
Any other thoughts you'd like to share?
STEP 4: Wrap Up & Closing Prayer
Summarize and wrap up the discussion. Then, conclude with a sincere and humble prayer from the heart.