Constancy of Purpose
Do you have to choose to seek to glorify God in all you do by pursuing a virtuous life as your ultimate purpose in life? Of course not. You can choose any purpose you want for your life. You have free will. But it is God's will for you to choose and fulfill this purpose. Furthermore, this is the purpose that will remain constant whether you become a prisoner of war, or win the lottery; build the house of your dreams, or watch it burn down; whether you fall in love, or lose the one you love; whether you're healthy, or fall ill; whether you succeed, or fail—this is the purpose that never changes. In fact, it continues to gain strength through the triumphs and the trials, because when your purpose is to seek to glorify God in all you do by pursuing a virtuous life—every situation throughout life, no matter the circumstance—is viewed as an opportunity for growth, perfection, and fulfillment of purpose.
But God won't force you to pursue this purpose; He's given you free will—you must will it. It's not too late. As Asha Tyson once said, "Your journey has molded you for the greater good, and it was exactly what it needed to be. Don't think that you've lost time. It took each and every situation you have encountered to bring you to the now. And now is right on time."
Be who God wills you to be. Heed God's call, pursue His will, fulfill His purpose. For by doing so, God fulfills you.

Scroll down for the related scriptures, quotes, and lesson plan associated with this teaching.
Copyright © 2022 Horse & Chariot LLC. All rights reserved.
Related Scripture
"Now, the important thing is that your way of life should be as the gospel of Christ requires, so that, whether or not I am able to go and see you, I will hear that you are standing firm with one common purpose and that with only one desire you are fighting together for the faith of the gospel." — Philippians 1:27 (GNTD)
"However that may be, let each of you lead the life that the Lord has assigned, to which God called you…" — 1 Corinthians 7:17 (NRSV)
"My flesh and my heart may fail, but God is the strength of my heart and my portion forever." — Psalm 73:26 (ESV)
"For God did not call us to be impure, but to live a holy life." — 1 Thessalonians 4:7 (NIV)
"Look carefully then how you walk, not as unwise but as wise." — Ephesians 5:15 (ESV)
"But you have followed my teaching, my conduct, and my purpose in life; you have observed my faith, my patience, my love, my endurance." — 2 Timothy 3:10 (GNTD)
"If we live by the Spirit, let us also be guided by the Spirit." — Galatians 5:25 (NRSV)
"Agree with God, and be at peace; thereby good will come to you." — Job 22:21 (ESV)
"Do not be conformed to this world, but be transformed by the renewal of your mind, that by testing you may discern what is the will of God, what is good and acceptable and perfect. For by the grace given to me I say to everyone among you not to think of himself more highly than he ought to think, but to think with sober judgment, each according to the measure of faith that God has assigned. — Romans 12:2-4 (ESV)
"For I know the plans I have for you, declares the Lord, plans for welfare and not for evil, to give you a future and a hope." — Jeremiah 29:11 (ESV)
"He has told you, O man, what is good; and what does the Lord require of you but to do justice, and to love kindness, and to walk humbly with your God?" — Micah 6:8 (ESV)
"But he said to me, "My grace is sufficient for you, for my power is made perfect in weakness." Therefore I will boast all the more gladly of my weaknesses, so that the power of Christ may rest upon me. For the sake of Christ, then, I am content with weaknesses, insults, hardships, persecutions, and calamities. For when I am weak, then I am strong." — 2 Corinthians 12:9-10 (ESV)
"But the fruit of the Spirit is love, joy, peace, patience, kindness, goodness, faithfulness, gentleness, self-control; against such things there is no law." — Galatians 5:22-23 (ESV)
"I have said these things to you, that in me you may have peace. In the world you will have tribulation. But take heart; I have overcome the world." — John 16:33 (ESV)
"Blessed is the man who remains steadfast under trial, for when he has stood the test he will receive the crown of life, which God has promised to those who love him." — James 1:12 (ESV)
"And the peace of God, which surpasses all understanding, will guard your hearts and your minds in Christ Jesus." — Philippians 4:7 (ESV)
Related Quotes
"Your journey has molded you for the greater good, and it was exactly what it needed to be. Don't think that you've lost time. It took each and every situation you have encountered to bring you to the now. And now is right on time." — Asha Tyson
"We must do everything we are obliged to do; give without reckoning, practice virtue whenever opportunity offers, constantly overcome ourselves, prove our love by all the little acts of tenderness and consideration we can muster. In a word, we must produce all the good works that lie within our strength—out of love for God." — St. Therese of Lisieux
"Greatness of spirit is to bear finely both good fortune and bad, honor and disgrace, and not to think highly of luxury or attention or power or victories in contests, and to possess a certain depth and magnitude of spirit." — Aristotle
"God doesn't work on our timetable. He has a plan that He will execute perfectly and for the highest, greatest good of all, and for His ultimate glory." — Charles R. Swindoll
"When you follow God's will for your life, you can see how yesterday's events prepared you for today's challenges and tomorrow's opportunities." — David Jeremiah
"It's not about success and failure. It's not about good days and bad days. It's not about wealth or poverty. It's not about health or sickness. It's not even about life or death. It's about glorifying God in whatever circumstance you find yourself in." — Mark Batterson
"The process of time brings our transformation to fruition. Free yourself to live through the processes God puts you through because at the appointed time He will cause you to bear much fruit—all for purpose of glorifying Him in the world." — LaShawnda Jones
"Why do you do what you do? Why do you dress the way you dress? Why do you do what you do with your time? Why do you watch what you watch on TV or at the movies or on the computer? Do you have God-glorifying reasons for all of it?" — Tim Conway
"It's much less demanding to think about God's will for your future than it is to ask Him what He wants you to do in the next ten minutes." — Francis Chan
"We must go out to Pure Life, Pure Truth, Pure Love, and that is the definition of God. He is the ultimate goal of life; from Him we came, and in [union with] Him alone do we find our peace." — Ven. Fulton J. Sheen
"We glorify Christ when we live for God—trusting, loving, and obeying Him." — Billy Graham
"God doesn't mock us. He never gives us a goal that we cannot accomplish in His strength. I want to assure you, you can glorify God, you MUST glorify God. But you have to determine deep within your heart that you're going to do it His way." — Charles R. Swindoll
"He must increase, but I must decrease." — St. John the Baptist
"Love aright and you will never be sad. Embrace God's will and you will be filled with joy and peace." — St. Rose Philippine Duchesne
"I question and soul-search constantly into myself to be as certain as I can that I am fulfilling the true meaning of my work, that I am maintaining my sense of purpose, that I am holding fast to my ideals, that I am guiding my people in the right direction." — Martin Luther King, Jr.
"Life is an opportunity, benefit from it. Life is beauty, admire it. Life is a dream, realize it. Life is a challenge, meet it. Life is a duty, complete it. Life is a game, play it. Life is a promise, fulfill it. Life is sorrow, overcome it. Life is a song, sing it. Life is a struggle, accept it. Life is a tragedy, confront it. Life is an adventure, dare it. Life is luck, make it. Life is too precious, do not destroy it. Life is life, fight for it." — St. Mother Teresa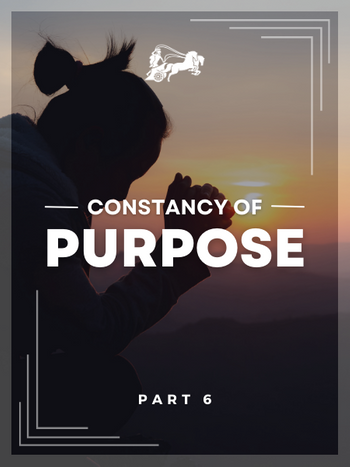 Lesson Plan
For your family, small group, or personal reflection.
STEP 1: Introduction
Example: "I'm going to play a short video on the topic of the constancy of purpose. After the video, I have some questions to gather your thoughts and get the discussion started. We'll then wrap up with a closing prayer."
STEP 2: Watch Video (or listen)
Watch (or listen to) the video of the teaching (cast to your TV via YouTube). If time allows, also read the teaching, related Scriptures, and related quotes.
STEP 3: Discussion / Reflection
Describe how that purpose "To seek to glorify God in all you do by pursuing a virtuous life" remains constant through the triumphs and the trials of life (give some examples).

Are there difficulties or trials you have experienced in life where you grew closer to God (please share)?

Reflect on all the aspects of your life (work, school, home, play, alone time, thoughts, actions, etc.). Moving forward, in what ways can you better seek to glorify God and pursue a virtuous life?

Did any of the related Scriptures or quotes stand out to you (please elaborate)?

Any other thoughts you'd like to share?
STEP 4: Wrap Up & Closing Prayer
Summarize and wrap up the discussion. Then, conclude with a sincere and humble prayer from the heart.