Passions of Difficulty
The passions in the face of difficulties and trials (referred to as irascible passions) are hope, despair, daring, fear, and anger.
To illustrate these in action, imagine your community is invaded by an evil force—and getting to safety requires a long arduous journey. If you believe you can make the journey, you have hope; if not, you have despair. Say that along the journey you come under attack. If you believe you can win the battle, you have daring (which stirs energy within you to fight); if not, you have fear (which urges you to cower or flee). Finally, if able to complete the journey to safety, you have peace; but if unable to escape the evil force, you have anger.
One evil force we all face is sin. Sadly, many know they are living in vice, but do not want to make the arduous journey to break free. Thus, they are left in a state of despair and depression because they are ultimately slaves to sin.
Is there a vice separating you from being who God wills you to be? Pray for hope that you will overcome it; never fall into despair. Along the way, you will be put to the test; and when you do, dare to rise in battle; never cower in fear. When sweet victory is gained, you will find freedom and fulfillment. Until then, lean on the Lord and do as Scripture says, "Be angry and do not sin" (Ephesians 4:26)—using the passion of anger to fuel your fight…never surrendering to…or being defeated by—sin.
To gain strength in virtue is to gain freedom from vice.

Scroll down for the related scriptures, quotes, and lesson plan associated with this teaching.
Copyright © 2022 Horse & Chariot LLC. All rights reserved.
Related Scripture
"Be strong and courageous. Do not fear or be in dread of them, for it is the Lord your God who goes with you. He will not leave you or forsake you." — Deuteronomy 31:6 (ESV)
"Count it all joy, my brothers, when you meet trials of various kinds…" — James 1:2 (ESV)
"And he said to me: 'My grace is sufficient for you. For virtue is perfected in weakness.' And so, willingly shall I glory in my weaknesses, so that the virtue of Christ may live within me." — 2 Corinthians 12:9 (CPDV)
"Blessed be the God and Father of our Lord Jesus Christ! According to his great mercy, he has caused us to be born again to a living hope through the resurrection of Jesus Christ from the dead…" — 1 Peter 1:3 (ESV)
"It is he who gives strength to the weary, and it is he who increases fortitude and strength in those who are failing." — Isaiah 40:29 (CPDV)
"Since we have such a hope, we are very bold…" — 2 Corinthians 3:12 (ESV)
"The wicked flee when no one pursues, but the righteous are bold as a lion." — Proverbs 28:1 (ESV)
"We are afflicted in every way, but not crushed; perplexed, but not driven to despair…" — 2 Corinthians 4:8 (ESV)
"Hope deferred makes the heart sick..." — Proverbs 13:12 (ESV)
"If you despair, being weary in the day of anguish, your strength will be diminished." — Proverbs 24:10 (CPDV)
"We have this as a sure and steadfast anchor of the soul, a hope that enters into the inner place behind the curtain…" — Hebrews 6:19 (ESV)
"Be angry and do not sin; do not let the sun go down on your anger…" — Ephesians 4:26 (ESV)
"Be angry, and do not sin..." — Psalm 4:4 (ESV)
"Then the earth reeled and rocked; the foundations of the heavens trembled and quaked, because he was angry." — 2 Samuel 22:8 (ESV)
"For I know the plans I have for you, declares the Lord, plans for welfare and not for evil, to give you a future and a hope." — Jeremiah 29:11 (ESV)
"Have I not commanded you? Be strong and courageous. Do not be frightened, and do not be dismayed, for the Lord your God is with you wherever you go." — Joshua 1:9 (ESV)
"The fear of the Lord is hatred of evil. Pride and arrogance and the way of evil and perverted speech I hate." — Proverbs 8:13 (ESV)
"I sought the Lord, and he answered me and delivered me from all my fears." — Psalm 34:4 (ESV)
"When I am afraid, I put my trust in you." — Psalm 56:3 (ESV)
"But I will hope continually and will praise you yet more and more." — Psalm 71:14 (ESV)
"Rejoice in hope, be patient in tribulation, be constant in prayer." — Romans 12:12 (ESV)
"May the God of hope fill you with all joy and peace in believing, so that by the power of the Holy Spirit you may abound in hope." — Romans 15:13 (ESV)
"For whatever was written in former days was written for our instruction, that through endurance and through the encouragement of the Scriptures we might have hope." — Romans 15:4 (ESV)
"...and endurance produces character, and character produces hope…and hope does not put us to shame, because God's love has been poured into our hearts through the Holy Spirit who has been given to us." — Romans 5:4-5 (ESV)
Related Quotes
"We shall steer safely through every storm, so long as our heart is right, our intention fervent, our courage steadfast, and our trust fixed on God." — St. Francis de Sales
"I'll tell you, I've seen the lightning flash. I've heard the thunder roll. I felt sin-breakers dashing, trying to conquer my soul. But I heard the voice of Jesus saying still to fight on." — Martin Luther King, Jr.
"Courage is a mean with regard to fear and confidence." — Aristotle
"Fear [Well ordered] is pain arising from the anticipation of evil." — Aristotle
"He is a man of courage who does not run away, but remains at his post and fights against the enemy." — Socrates
"Anybody can become angry - that is easy, but to be angry with the right person and to the right degree and at the right time and for the right purpose, and in the right way—that is not within everybody's power and is not easy." — Aristotle
"Hope has two beautiful daughters; their names are Anger and Courage. Anger at the way things are, and Courage to see that they do not remain as they are." — St. Augustine
"Boxing is a physical sport that requires intellectual discipline in a number of ways. First, the mind needs to pace the body and decide where and exactly when to punch the opponent. The intellect must observe timing, fatigue, patterns, and openings. The intellect communicates actions through the will. Sometimes, the passion of anger appears in a boxer. He is right to be passionate as he boxes. If, however, the intellect of the boxer becomes clouded with anger, his intellect will lose control. He may also acquire too much aversion to pain. He might begin to make foolish punches and open himself up to loss. We call this "losing your cool" and it simply refers to the moment in which the passion of anger overcomes the human intellect." — Dr. Taylor Marshall
"He who passively accepts evil is as much involved in it as he who helps to perpetrate it. He who accepts evil without protesting against it is really cooperating with it." — Martin Luther King, Jr.
"It is not because things are difficult that we do not dare; it is because we do not dare that things are difficult." — Seneca
"The difficulty, my friends, is not in avoiding death, but in avoiding unrighteousness; for that runs faster than death." — Socrates
"Those who cannot bravely face danger are the slaves of their attackers." — Aristotle
"To die, and thus avoid poverty or love, or anything painful, is not the part of a brave man, but rather of a coward; for it is cowardice to avoid trouble..." — Aristotle
"Two criminals were crucified with Christ. One was saved; do not despair. One was not; do not presume." — St. Augustine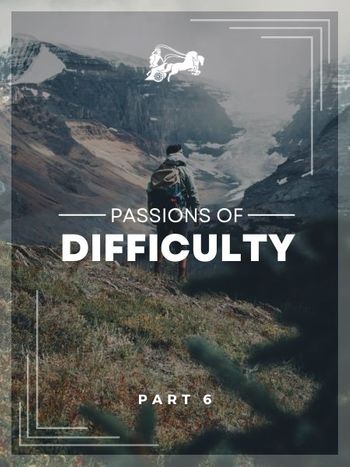 Lesson Plan
For your family, small group, or personal reflection.
STEP 1: Introduction
Example: "I'm going to play a short video on the topic of our passions in the face of difficulties and trials. After the video, I have some questions to gather your thoughts and get the discussion started. We'll then wrap up with a closing prayer."
STEP 2: Watch Video (or listen)
Watch (or listen to) the video of the teaching (cast to your TV via YouTube). If time allows, also read the teaching, related Scriptures, and related quotes.
STEP 3: Discussion / Reflection
What are the five passions in the face of difficulties and trials? Please explain what they are, how they work, and an example of them in your life.

What is the difference between hope and despair (give some examples)?

What is the difference between daring and fear (give some examples)?

How can the passion of anger be good if properly ordered? (HINT: Ephesians 4:26 says, "Be angry and do not sin." Meaning, use the passion of anger to fuel your fight against evil and sin.)

Did any of the related Scriptures or quotes stand out to you (please elaborate)?

Any other thoughts you'd like to share?
STEP 4: Wrap Up & Closing Prayer
Summarize and wrap up the discussion. Then, conclude with a sincere and humble prayer from the heart.