Many Goals, One Purpose
Virtue teaches: you are to pursue many goals, but only one purpose. The vision for your life, all your goals, your every endeavor, should be subordinate to your one, singular, unwavering purpose.
You may have a goal of finding a spouse, raising children, a successful career—the possibilities are endless; and those would all be worthy goals, but they must all be aligned with your purpose. Meaning, in the process of pursuing them, you simultaneously pursue your purpose. This way, upon success or failure in achieving a goal, the sense of purpose prevails in your life. Because, if you place your purpose in a goal, even in achievement of the goal, you feel emptiness because your purpose has come to an end, and with it, your sense of fulfillment, until a newfound purpose (or goal) is discovered in your life.
What should your one purpose in life be? Something that never needs to change, and can continue to be pursued in the very best and worst of situations. The one purpose in life you are called to fulfill is—
To seek to glorify God in all you do by pursuing a virtuous life.
As the Word says, "All who are called by my name I created for my glory…" (Isaiah 43:7), so "...do everything for the glory of God" (1 Corinthians 10:31).
By fulfilling this one purpose, God fulfills you.

Scroll down for the related scriptures, quotes, and lesson plan associated with this teaching.
Copyright © 2022 Horse & Chariot LLC. All rights reserved.
Related Scripture
"All who are called by my name I created for my glory; I formed them, made them." — Isaiah 43:7 (NABRE)
"So whether you eat or drink, or whatever you do, do everything for the glory of God." — 1 Corinthians 10:31 (NABRE)
"I glorified you on earth, having accomplished the work that you gave me to do." — John 17:4 (ESV)
"...whosoever shall glorify me, him will I glorify..." — 1 Samuel 2:30 (DRC)
''For it is God who works in you to will and to act in order to fulfill his good purpose." — Philippians 2:13 (NIV)
"I glorified you on earth, having accomplished the work that you gave me to do." — John 17:4 (ESV)
"Glory to God in the highest; and on earth peace to men of good will." — Luke 2:14 (DRC)
"I know that you can do all things, and that no purpose of yours can be hindered." — Job 42:2 (NABRE)
"...be filled with the knowledge of his will, with all wisdom and spiritual understanding, so that you may walk in a manner worthy of God, being pleasing in all things, being fruitful in every good work, and increasing in the knowledge of God, being strengthened in every virtue, in accord with the power of his glory, with all patience and longsuffering, with joy, giving thanks to God the Father, who has made us worthy to have a share in the portion of the saints, in the light." — Colossians‬ ‭1:9-12 (CPVD)
"For as in one body we have many members, and the members do not all have the same function, so we, though many, are one body in Christ, and individually members one of another." — Romans 12:4-5 (ESV)
"For you have been called for this purpose, since Christ also suffered for you, leaving you an example for you to follow in His steps." — 1 Peter 2:21 (NASB)
Related Quotes
"Everything that is full of life loves change, for the characteristic of life is movement toward a new goal…" — Fulton J. Sheen
"The goal of a virtuous life is to become [Christlike]." — St. Gregory of Nyssa
"All the activities of life should be pursued with the aim of glorifying God." — Jerry Bridges
"The goal of all our undertakings should be not so much a task perfectly completed as the accomplishment of the will of God." — St. Therese of Lisieux
"It's one thing to go through a crisis grandly, yet quite another to go through every day glorifying God when there is no witness, no limelight, and no one paying even the remotest attention to us." — Oswald Chambers
"Our great object of glorifying God is to be mainly achieved by the winning of souls." — Charles Spurgeon
"If your life is an example of glorifying God, others won't see your good works and glorify YOU, because they'll know what you are doing is for God's glory." — Charles R. Swindoll
"Our voices, our service, and our abilities are to be employed, primarily, for the glory of God." — Billy Graham
"When people seek to fulfill their callings by glorifying God in their work, praising Him for their gifts and abilities, and seeing both their efforts and its products as an offering to Him, then work is an act of worship to God." — Steve Corbett
"We were created for Him. Each of us was given unique talents and interests and abilities, all for the purpose of glorifying God." — Diane Moody
"We, Jesus' followers, are the agents assigned to carry out God's will on earth. Too easily we expect God to do something for us when instead God wants to do it through us." — Philip Yancey
"Every human desire and every human action find their ultimate 'completion' in the ultimate end of union with God." — St. Thomas Aquinas
"Live each day as you would climb a mountain. An occasional glance toward the summit keeps the goal in mind, but many beautiful scenes are to be observed from each new vantage point. So climb slowly, enjoying each passing moment; and then the view from the summit will serve a more rewarding climax for your journey." — Ven. Fulton J. Sheen
"People who labor all their lives but have no purpose to direct every thought and impulse toward are wasting their time-even when hard at work." — Marcus Aurelius
"Use me, God. Show me how to take who I am, who I want to be, and what I can do, and use it for a purpose greater than myself." — Martin Luther King, Jr.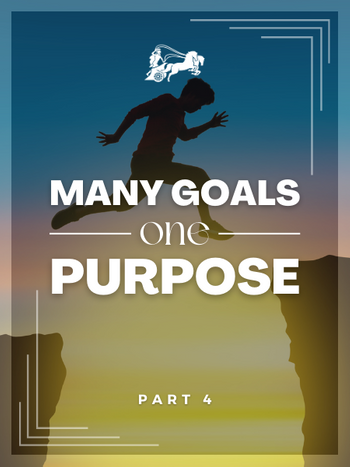 Lesson Plan
For your family, small group, or personal reflection.
STEP 1: Introduction
Example: "I'm going to play a short video on the topic of pursuing many goals, but only one purpose in life. After the video, I have some questions to gather your thoughts and get the discussion started. We'll then wrap up with a closing prayer."
STEP 2: Watch Video (or listen)
Watch (or listen to) the video of the teaching (cast to your TV via YouTube). If time allows, also read the teaching, related Scriptures, and related quotes.
STEP 3: Discussion / Reflection
Goals are good, and we should pursue many throughout our life, but how can we make sure we continue to glorify God (do His will) and remain virtuous as we pursue them?

Explain how you can maintain your sense of purpose and fulfillment even if a big goal of yours falls short or doesn't work out as planned. (HINT: If your ultimate purpose is to seek to glorify God in all you do by pursuing a virtuous life, you can continue to fulfill your purpose whether a goal is or is not achieved.)

Share some goals you have and how you can best glorify God in pursuit of them.

Who in your life, if anyone, have you recognized seems to seek to glorify God and remain virtuous (of good character) no matter what life throws at them?

Did any of the related Scriptures or quotes stand out to you (please elaborate)?

Any other thoughts you'd like to share?
STEP 4: Wrap Up & Closing Prayer
Summarize and wrap up the discussion. Then, conclude with a sincere and humble prayer from the heart.